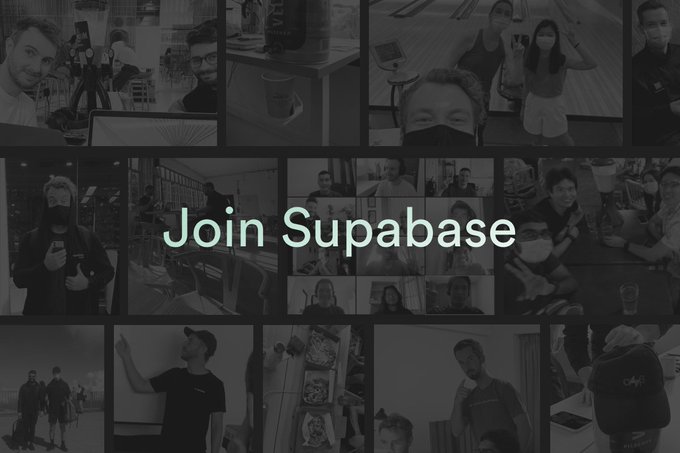 Supabase is an Open Source and fully remote company building developer tools for databases.
Social Media and Community are two of the main growth engines for Supabase. We're seeking someone to engage with our huge community and own our social media. You'll do creative work and gain a deep understanding of Supabase. There is scope to do technical work as part of the role.
This role will mainly interact with DevRel, Engineering, and Marketing, but will have company-wide visibility and impact.
You will:
Own the Social Media Calendar and create highly engaging content for developers in different formats across our social media channels: Twitter, LinkedIn, and Youtube. We're also starting to experiment with Instagram and TikTok.
Edit graphics and video.
Own Brand Listening. Engage in conversations, identify and activate advocates, and spot great user-generated content that we can boost.
Use and improve the distribution process to amplify and repurpose owned and earned content.
Use your research skills to identify new topics we can create content about and share it with the appropriate team.
Analyze and report on our social media and community performance, suggesting improvements to increase audience growth, reach, and engagement.
Work directly with the Chief Meme Officer.
Write technical examples and toys as a tool to engage the community.
You are:
A dev. You understand how devs assess new tools. You understand the value proposition of Supabase.
Creative, you can quickly produce assets using image and video editing tools.
Metrics driven, and sprint towards goals.
Willing to get your hands dirty and execute our strategy on repeat. This role is a blend of grind and creative work and will be extremely rewarding for the right person.
Open to feedback and have a growth mindset.
We offer:
100% remote work from anywhere in the world. No location-based adjustment to your salary.
ESOP (equity ownership in the company)
Autonomous work. We work collaboratively on projects, but you set your own pace.
Health, Vision and Dental benefits. Supabase covers 100% of the cost for employees and 80% for dependents
Generous Tech Allowance for any office setup you need
Annual Education Allowance
Annually run off-sites.
BUILD IN A WEEKEND. SCALE TO BILLIONS
Supabase adds auth, realtime, and restful APIs to Postgres without a single line of code.
Each project within Supabase is an isolated Postgres cluster, allowing customers to scale independently, while still providing the features that you need to build: instant database setup, auth, row level security, realtime data streams, auto-generating APIs, and a simple to use web interface.
We are a fully remote company.
Key Tech: Javascript, Typescript, Go, Elixir, PostgREST (haskell), Postgres, Pulumi.
About the team
We're a startup. It's unstructured.
Collectively founded more than a dozen venture-backed companies.
More than 10 different nationalities.
We deeply believe in the efficacy of collaborative open source. We support existing communities and tools, rather than building "yet another xx".
We "dogfood" everything. If you use it in your project, we use it in Supabase.
Process
The entire process is fully remote and all communication will happen over email or via video chat.
Once you've submitted your application, the team will review your submission, and may reach out for a short screening interview over video call.
If you pass the screen you will be invited to up to four follow up interviews. The calls:

usually take between 20-45 minutes each depending on the interviewer.
are all 1:1.
will be with both founders, a member of either the growth or engineering team (depending on the role), and usually one other person from your immediate team or function.

Once the interviews are over, the team will meet to discuss several roles and candidates and may:

ask one or two follow-up questions over email or a quick call.
go directly to making an offer.